Why We Are Not Charismatics 2
Revd Ian Goligher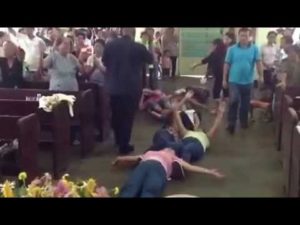 These are follow-up sermons to the one of the same topic brought to readers yesterday. They answer very important questions the devil
has been using to confuse people since around 1906:
Are there indeed any difference in the Bible between tongues and languages?
Are there some 'angelic languages' Christians are supposed to speak?
Did the Apostles of the Lord Jesus Christ speak any such language?
Are there any 'secret prayer languages' known only to the 'deep' Christian in the Bible?
What is the nature of Paul's discussions in 1 Corinthians chapters 12 to 14?
Does the Bible support the practice whereby people lose their consciousness in any way so they might acquire some special language or revelation? Is the practice Biblical? Is that not a purely occult practice?
As I advised earlier, you must listen to these sermons with your Bible open. Read the references whenever the pastor calls out any and read 1 Cor 12 to 14 itself. Do not forget there was no division of the whole passage, i.e, chapter 12, chapter 13 or chapter 14 when Paul wrote it.
He was discussing only one issue throughout the three chapters: the abuse of spiritual gifts by the 'deeper' Christians of Corinth.
May the Lord wake up everyone who comes by this site to the evil that has now fully displaced true faith in the Lord Jesus Christ in Nigeria and in much of the world in our time.
Note: For readers not based in p[laces where internet service bandwidth is good, do not click Play Audio. I advise you download the messages first into your handset/laptop rather than attempt to listen to them directly through the internet. In most cases the internet service is not strong enough to sustain unbroken audio or video transmission in most parts of Nigeria and the developing world.  Look for "Download MP3" when you open the sermons and click it.
http://www.sermonaudio.com/sermoninfo.asp?SID=123101162425
http://www.sermonaudio.com/sermoninfo.asp?SID=123101163958
If you think you need prayer or help in any way, feel free to get in touch with us.
.