Steer Clear Of Everyone Touting Signs and Wonders
2 Thessalonians 2:2-12 That cannot be said loud enough. I mean  EVERYONE. Because of its aptness to the situation the Church of Christ throughout the world is in today, I advise you read as carefully as possible, the quote in today's piece. Do not run over it. [sgmb id="1″]It is important you know very clearly what is going on in the church, why God is allowing it and where it is all headed. Please read the Bible passage very carefully.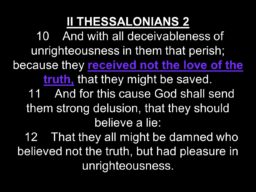 I generally advise people start reading it from the end: yeah, it is that unusual. Start it from verse 12 and read backward. Do not run or skip over any word in this passage.
Many preachers, evangelists, prophets, pastors, apostles and bishops have invaded the church touting nothing apart from miracles, signs and wonders, special revelations, gifts and powers. Not all their claims are fake, in the sense that no miracle ever takes place by their efforts: some of them actually exhibit extra-human abilities and many people are flocking after them. The issue is which power is the source of their miracles.
The Supremacy of The Written Word
The few things we have written on this site in the last few months, based on the sayings of the Lord Jesus Christ in Matthew 7:22-23 and the very many other passages in the Bible showing the supremacy of the written word of God over human experiences, feelings, cultures and teachings tell us they are not all from God. God knows we can easily be deceived by signs and wonders. That is why He spared no opportunity telling us to watch out for those touting them.  In 2 Cor 11:14  he says, "And no marvel; for Satan himself is transformed into an angel of light". Satan principally presents himself today as an ANGEL OF LIGHT!
2 Thess 2:1  Now we beseech you, brethren, by the coming of our Lord Jesus Christ, and by our gathering together unto him,
2 Thess 2:2  That ye be not soon shaken in mind, or be troubled, neither by spirit, nor by word, nor by letter as from us, as that the day of Christ is at hand.
2 Thess 2:3  Let no man deceive you by any means: for that day shall not come, except there come a falling away first, and that man of sin be revealed, the son of perdition;
2 Thess 2:4  Who opposes and exalts himself above all that is called God, or that is worshipped; so that he as God sits in the temple of God, shewing himself that he is God.
2 Thess 2:5  Remember ye not, that, when I was yet with you, I told you these things?
2 Thess 2:6  And now ye know what withholds that he might be revealed in his time.
2 Thess 2:7  For the mystery of iniquity doth already work: only he who now prevents will prevent, until he be taken out of the way.
2 Th 2:8  And then shall that Wicked be revealed, whom the Lord shall consume with the spirit of his mouth, and shall destroy with the brightness of his coming:
2 Th 2:9  Even him, whose coming is after the working of Satan with all power and signs and lying wonders,
2 Th 2:10  And with all deceivableness of unrighteousness in them that perish; because they received not the love of the truth, that they might be saved.
2 Th 2:11  And for this cause God shall send them strong delusion, that they should believe a lie:
2 Th 2:12  That they all might be damned who believed not the truth, but had pleasure in unrighteousness.
Unprecedented deception is going in the church in our days in the name of Christianity. Some of it comes with serious lying signs and wonders, miracles, words of knowledge, impartation of gifts, tongues, gold clouds, (demonic) angels appearing during worship services, trips to heaven, séances, revelations and so many other phenomena all geared to deceive.
…because they received not the love of the truth
Note that phrase in verse 10. Convince yourself it does not apply to you. Have you indeed received the love of the truth? Have you accepted the truth that there is no other way to God  than through His only begotten Son, Jesus Christ? Do you really accept He was God in human form? Have you accepted His death on the cross was, indeed,  His paying for your sin? Have you accepted the Bible statements that there is no way you can please God except by believing in the death, burial and resurrection of the Lord Jesus Christ for your sin? Have you accepted that there is no good thing you can do to remove the wrath of God from you except you fully and truly rely on Christ?
Will you reject an offer to receive serious wealth or healing if you know it is from a witch, a shaman or magic-man? Will you? Will you reject an offer from any of them to help you get first class in your studies or land a lucrative appointment or win an election? Will you reject an offer from them to help you get or keep a wife or husband? Will you refuse an offer to help you get a safe journey on your next travel? Will you renounce any such thing done for you by your parents or friends in the past?
Do you believe Jesus was God even when He walked the earth on two feet? Jesus in John 8:24 said anyone who did not believe that last sentence is lost and will die in his sin. Do you believe it or do you think He was a mere man like the rest of us or simply a more enlightened fellow? Do you think John 1:1-5, John 1:14, 1 Timothy 3:16 and John 8:24 are true?
Which will you rather have: the true Lord Jesus Christ or the satanic signs and wonders of Pentecostal and charismatic deception or the idolatry and rebellion of the Catholic Mass?  These few questions are to help you clear any doubt in your mind that you believe in Jesus Christ and you will rather have Him than all the wealth, good health and wonders anyone can offer to you once it can be shown to you the person harbors ideas and beliefs that are not from the Bible.
But if the beliefs of your spiritual (father?) helper concerning Christ does not matter to you, you are not a Christian. The Lord Jesus Christ does not know you, either. You are not a child of God.
2 Cor 11:14  And no marvel; for Satan himself is transformed into an angel of light.
Ask the Lord Jesus Christ to help you see what error you have imbibed into your spirit and to help you out of them. Your soul is worth more than all your relationships with pastors and 'men of God',  more than 90% of whom are not even God's servants.
If you think you need prayer or help in any way, feel free to get in touch with us.
.