Which Jesus Are You Following?
Johanna Michaelsen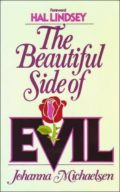 Some thirty-five or so years ago, the Lord Jesus Christ placed some very important reading materials in my hand. One set of these materials was authored by the late Dr Kurt E Koch
Dr Koch was able to prove by very convincing empirical research there are two groups that speak in 'tongue' in Pentecostal and Charismatic circles: the intentional fraud who makes up the 'tongue' as he goes and the demonically possessed who is in no control of what he says. The former often knows when to start and stop and what clicks and sounds he makes; the latter is mostly unaware of what he says, when and how. He may even be unaware of his surroundings as he speaks his 'tongues'. He is possessed. If commanded by a true child of God, it will be found out almost all he says are curses on the Lord Jesus Christ and the people around him and praises and homage to Satan.
These teachings, checked closely with the Bible, cured me of the urge to acquire 'the baptism of the Holy Ghost with the evidence of speaking in tongues'.
The second main takeaway from Dr Koch's writings was the knowledge of the universality and uniformity of evil. The Tibetan magic-man, the Druid of Europe, the English, the German, the Dutch, the Spanish, the French psychic, the Aborigine of Australia, the Satan worshiper of America, the Hindus of India, the soothsayer among the indigenous people of Alaska, the Chinese medicine man, the fortune teller of Arabia and the diviner in the jungles of Africa all, uncannily, share the same set of beliefs and practices about the spirit world.
They all, in spite of thousands of kilometers of land and oceans and having never met for thousands of years, essentially worship the same unseen, frightful spiritual being.
[sgmb id="1″]
The other book was the autobiography of a young lady by the name of Johanna Michaelsen. I have made attempts to bring some of the very extra-ordinary works of Dr Koch to the attention of readers of this site and I hope someone has been blessed by the writings of this man of God.
It is a privilege to introduce readers and Christians, young and old, to Johanna. God has been kind to her and His church by allowing the people of this generation to examine which Jesus they really are following. I learnt early in my Christian life that the Jesus that would not allow you to ask question before you must plunge into an action or decision is the dark 'Jesus'. Check, again, the Jesus you are following. The Jesus of Word of Faith, Prosperity and Dominion Churches is not the Jesus of the Bible.
The Jesus that Chris Oyakhiome, David Oyedepo, Enock Adeboye, Chris Kpakpovwe, Ayo Oritsejafor, Paul Enenche, Joshua Talena, Chris Okotie, TB Joshua, Daniel Olukoya follow is NOT the Jesus that died on the cross.
May you be blessed as you watch and listen to Johanna in these three radio and video interviews:
Johanna On The Emerging Church And New Age Mysticism