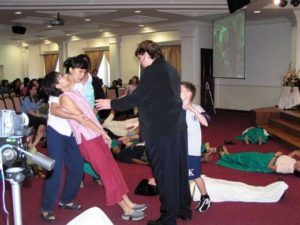 I think we may freely repeat the topic of this sermon Why We are Not Charismatics and rephrase it to "Why We Should Not Be Charismatics or Pentecostals". I return to the issue of charismaticism and Pentecostalism over and over again given the tremendous negative impacts of the errors this movement are having in the church in our day.

[sgmb id="1″]
The devil has not been able to fashion a worse counterfeit to true Christianity in the last hundred years. It is important we all understand as much as possible the spirit behind the movement. They speak christianese; they carry the Bible; they have the titles; they attend the 'seminaries' and the 'Rhema Bible Institutes'; in 9 out of 10 instances they are the most visible 'church leaders' in most countries but they are NOT Christians!
You need to know what they teach and preach. Even though most people who consider themselves affiliated to one church or the other would rather suspend judgment until they get to heaven, we cannot wait to find out if what Kenneth Copeland, Kenneth Hagin, Joyce Meyer, Joseph Prince, Daniel Olukoya, David Oyedepo, Benson Idahosa, Chris Oyakhilome and Mike Okonkwo teach conform with clear provisions of the Bible or not; it would be extremely foolish to do so. The Lord in 1 John 4:1-2 asked us to check EVERY spirit: you must check and check again the spirit behind anyone teaching you about God.
You will be blessed as you prayerfully listen to Reverend Ian Goligher teaching the truths in 1st and 2nd Corinthians. Pentecostalism is a weed planted by the devil. It has some of the appearances of the real crop but that is all. Since it is fundamentally different from the real thing, the fruit is markedly bitter and poisonous.
There is nothing out of place for Chris Oyakhilome or Benny Hinn or Paula White to divorce their spouses or promote sins, pride, idolatry, debauchery and fornication: they were never regenerated people to start with. They hung around Christians long enough to learn the language and some of the teachings of Christianity but they never met the Lord. They are in open rebellion against the Lordship of the Lord Jesus Christ: most of them are having serious problems quieting their consciences but they do their best to hide that from their congregations. They compound their problems by attending so-called Word-Of-Faith and Rhema Bible schools where they learnt nothing but witchcraft, occultism and sorcery .
Follow Ian Goligher with an open Bible.
Adapted from Rev Ian Goligher