Benny Hinn In His Own Words 2
Sow a big seed – Hinn
"Sow a big seed.  When you confess it, you are activating the supernatural forces of God" (TBN Praise-a-Thon, 2/8/90).  And he promises, "Pray in the Holy Ghost.  Lift your voices up in prayer right now.  Get your hearts ready, and as you pray in the Holy Spirit God will anoint that seed you're about to sow. And as God anoints the seed He also anoints the ground so it can bring forth a mightier harvest for you and your children's families and brings them out of bondage in the name of Jesus.  Hallelujah! Hallelujah!" (Hinn, 1/21/99 Blaisedale center Hawaii).
Can you spot the godlessness in that quote? Where is Jesus through whom God promised to give us all things? Your "harvest" (blessings), according to Benny, comes, not through the Lord Jesus Christ, but from the seed you sow. When it comes to God answering your prayers, your seeds decide what you get! Jesus shed His blood for nothing!
 If you don't sow seeds – give money to Benny, mind you, to Benny, not to the widow or the destitute by your house – no blessings for you!
This is the same thing that Enock Adeboye preaches. It is the same that David Oyedepo preaches. It is the same that Chris Oyakhilome preaches. It is the same that Dr Enenche preaches. It is the same that Johnson Suleiman teaches. It is the same that Ayo Oritsejafor teaches. It is the same that Creflo Dollar teaches.  It is the same that Talena preaches. This is what Joyce Meyer teaches. This is what Benson Idahosa taught. This is what Myles Monroe taught. This is what Kenneth Hagin taught. This is what Kenneth Copeland teaches. Check their sermons on YouTube. 'In Jesus name!' is only used as a magic wand, a talisman.
Is it not clear to you this teaching is a subtle indictment on the goodness of God? That when you give to God, you do so as a prepayment on what God must do for you, not as a gratitude for what He has already done? That you, a bunch of magnesium, nitrogen, iron, mere dust, should be able to even read this, not to talk of enjoying the sun or living on His Estate, do not have enough reason to humbly worship Him with your life and material and financial resources but that your offering must be seen as some sort of investment in your future?
It is a doctrine of devils.
Hinn: Sow The Best Seed
"Are you ready to sow? Are you ready to sow?  I want you to sow the best seed you care about, I want you to sow the best seed.   People, the ground is wet and moist by the anointing.  I want you to sow your best seed. Many of you right now can sow $100.  Many, some can sow $1,000.  Don't tip God.  Do not tip God tonight.  Do not or you're going to miss what's coming in this harvest time.   When you don't give money, it shows that you have the devil's nature" (Praise-a-Thon TBN, 4/21/91).
[sgmb id="4″]
This is the gospel of greed. This is what is called Prosperity gospel.
Since it is not supported by God, it is only the pastor,  as the ultimate conman, that prospers under this gospel. Have you noticed the giver is not being admonished to give to the poor – even though this is Christ's express teaching? This is what all the big-time pastors of Nigeria preach.
Hinn: Poverty Comes From Hell
"Poverty comes from Hell, … prosperity comes from Heaven.  Sow a big seed, when you confess it, you are activating the supernatural forces of God." (TBN Praise-a-Thon 2/8/90).  During the June 11, 1990 Praise-A-Thon, Hinn had claimed  "Poverty is from the devil and that God wants all Christians prosperous."
Christ was poor. Peter and John were poor. Paul was poor. The disciples in Jerusalem were poor. Lazarus was poor. Are they all from hell? What else do we say about the camel passing through the eye of a needle when it comes to the rich entering the kingdom of God since poverty was from hell?
This is a very seductive doctrine. It appeals to men's innate love for material and financial security. Sin is replaced as the cause of man's problems and God's forgiveness through the cross of Christ is made a non-issue.
Their sermons are always on "Your Best Life Now!", never on how to see the face of God.
Not ONE Single Person Ever Healed By Benny Hinn
"If Benny Hinn can give people only one thing – hope – I'm satisfied."
But can this statement be taken seriously from a man who claims God used him to heal thousands?  What a far cry from his declaration that every time he is on TV someone is healed.  Unlike Hinn's Word of Faith teaching that people must "claim" or "speak" their healing, true faith admits its problem – which is anathema in the Word-Faith camp.  No one who was blind that came to Jesus said, "I'm healed! I can see!" not until Jesus touched them or spoke the word.  They did not first confess Him as the healer and then were healed.  Nor did they get paraded around the countryside afterwards.  Least of all, Jesus did not ask for money from those who were watching.
Not ONE single person has EVER being healed in Benny Hinn's crusade, ever. It is all a sham: all you have been watching on Hinn's TV programs were mere television gimmicks. Let me repeat: Benny Hinn has NEVER healed any single person all his life! This is confirmed by, wait for it, Benny Hinn!
Watch the investigative video in this post where he affirmed, under strict interrogation, that NO ONE has ever been healed in any of his crusades.
And you know what: even if he can prove any one miracle he has done, which he cannot, apart from hypnotism, the fact he teaches things the Bible is against disqualifies him as a minister of the Lord Jesus Christ.
It's Your Seed, Not The Blood of Christ
"If you want the devil behind bars, start giving.  God will paralyze him for you, for your sake.  He'll quit eating your seed "
It is your seed (money), not the Blood of the Lamb of God, that keeps the devil behind bars in the theology of Hinn! Without your money God cannot paralyze him for you!
If anyone needs any other reason to believe Prosperity preachers are into another religion, in fact a highly successful but very well concealed anti-Christ religion, this is it.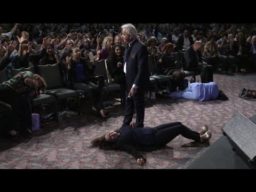 Hinn: Fake Anointing
"When the anointing comes all your loved ones will be saved.  All the demons that harass you will be gone.  The day is coming when there will not be one sick saint in the body of Christ.  You're all gonna be healed before the Rapture" (Benny Hinn, "Praise the Lord," 7/8/96).
This is all deceit. The Lord Jesus Christ is the only Anointed in the New Testament. Anyone preaching any other anointing is preaching falsehood. There is no one single promise in the Bible that there will be a day no one will be sick before Christ returns. None.
Benny Hinn, David Oyedepo, the Redeemed Christian Church of God, the Christ Embassy and Creflo Dolla are selling fraud. They all use the word 'anointing' as if it is different from God's Holy Spirit. It is NOT!
Threats, Trickery And Manipuation
"You have held back from the Lord in the past, don't you dare do it now.  The day will come you will stand before Him and give an answer.  How dare we not give to God.  How dare we hold back.  Who do we think He is, some neighbor of ours?  He's God almighty.  We fear the Lord God of Hosts.  He's not some man, He's God.  If Jesus tonight appeared on this platform here and looked through this camera and said to you 'I need your offerings so I can touch the world,' would you give to him?  Of course!  Well, I've got news for you, He's saying it, He's saying it, He's saying it through his servants.  He's saying it through his word.  He's saying it!  The Bible clearly states 'how shall they go unless they be sent?' And God is speaking to you, so obey him.  SOME OF YOU NEED TO GIVE LARGE SUMS TONIGHT.  Don't you give those small sums if you have the large sums.  Many of you have those small sums.  The best you can give is all God wants from you.  The best you can give is all He expects of ya.  But some of you watching right now have money in the bank.  You're gonna leave it behind.  YOU MAY EVEN LOSE IT UNLESS YOU OBEY God tonight.  Give to God tonight!  God is speaking to you now!  Do you know by holding back from God you're keeping God's blessings from your family?  By holding back from the Lord you're saying 'no Lord, I don't want your presence in my home.'  (Mar.29, 2000 TBN).
And he, Benny Hinn, is the receiver-in-chief for God! He is God's book-keeper, God's banker!
Wake up! These people preach another gospel. They are agents of another religion.