<figure>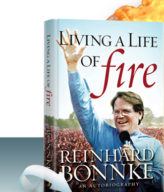 Reinhard Bonnke: What Strange Fire Is This?</figure>
Not many people have done so much in spreading heretic Christianity and doctrines of devils in Africa as Reinhard Bonnke in the last forty or so years.
Most people have not sat up to compare his teachings with the clear writings in the Bible on God the Father, the Lord Jesus Christ and the Holy Spirit.
[sgmb id="4″]
Reinhard Bonnke is the poster child of the occult Word of Faith, Prosperity and Dominion heresies in Africa. He is a purveyor of a strange gospel; he  promotes another christ who operates at his beck and call.
Many Africans, in hell, will curse the day Bonnke was born.
Can Bonnke and the millions of pastors and church leaders that follow him be wrong? Daniel 3:7 says yes, 1 kings 22 says yes, Matthew 7 and 24 say yes, Jude says yes,  Revelation 12:9 says yes: the Bible says yes. Revelation 12 and 13 speak of a world-wide deception at the last days.
People would be so roundly deceived they would fight whoever draws their attention to the possibility they may be wrong!
Jesus in Matthew 24:24 spoke of a deception so thorough, even God's elects will barely escape being overwhelmed by it.
How can this be?
The deceiving preachers will come, and the sermons will be made, in the name of Jesus;
These will be accompanied with signs and wonders but these are NOT from God;
The teachings will deviate ever so slightly so people will not realize they are being misled;
Just like the temptation of Eve, the teachings will look very plausible and believable;
If they care to read their Bibles at all, people will think the little-by-little deviations from the Bible by the preachers are due to the preachers' idiosyncracy or special knowledge.
Shouldn't you check what Bonnke teaches with what the Bible says?