Pastor Enoch Adeboye, The RCCG  And The One-World Antichrist Religion
[sgmb id="4″]
We would have failed in this website if readers come here, think they get their minds titillated, leave and forget the importance of the issues we are raising here. We like to state, again, that this website is not launched so anyone might be entertained. It is not launched to vilify anyone, even. It is launched and maintained so we might check what we hear and read from our religious leaders, such as pastor Adeboye and the RCCG, in line with what is in the Bible.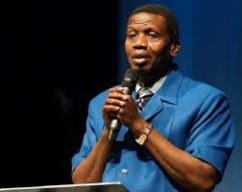 We believe, in line with the Bible, that there is nothing like re-incarnation for men. None of us is coming back after death. "…It is appointed unto men once to die, but after this the judgment" Heb 9:27 . The implication of this is that we cannot safely accede to the counsel of the devil that we should not judge what people teach or say. We will rather follow the injunction in 1 John 4:1-2 that we should try every spirit. We will try the spirits on what we hear, read or see from every preacher. That one is in our own interest.
The devil may wish to becloud our eyes with the 'success' or 'respectability' or erudition of the preacher. We know God's words transcend all these accolades. We believe, also, that the best of men is, as someone said, at best, a man. He is susceptible to being deceived like the rest of us. This is the reason we shrug in horror when people shout 'judge not' or 'touch not my anointed' when all we are doing is comparing what people teach with what the Bible says.
We had written briefly in the past on the obvious errors in the ministry of Pastor Enoch Adeboye and the Redeemed Christian Church of God. Much of these were on the errors on some of the items in the Statement of Beliefs posted on the Church's website and the Church's association with Mr David Oyedepo in light of the warning in 2 Jn 1:10-11:
"If there come any unto you, and bring not this doctrine, receive him not into your house, neither bid him God speed: For he that bids him God speed is partaker of his evil deeds".
This embedded video is such that we must check the facts a little more closely. Is Mr Enoch Adeboye a Christian at all? Does he really know the Lord Jesus Christ? Is he merely a very successful social worker or social organizer throwing quotes from the Bible here and there in order to make an impression? What really does he teach: what does he believe in?
For so much as these questions may be very objectionable to very many Nigerians who believe there is no better representative of Christ on earth than pastor Enoch Adeboye, what the man says on the pulpit and writes in the daily devotional 'Open Heavens' must cause all men of good will grave concern. That is if the Bible is the basis of evaluating teachings in a Christian church.
The moment the reader does away with the veil of hero worship, pastor Enoch Adeboye's doctrines take on alarming dimensions. You soon begin to see that  a good proportion of his teachings are assaults on the glory and majesty of the Lord Jesus Christ: most of his statements are on  prosperity, "Your Best Life Now!" and his personal, self-promotion of his own holiness and spiritual importance! In fact there is hardly any heretical teaching that Benny Hinn or Paula White or Mike Murdock can be accused of that you won't hear from pastor Adeboye. You only need to listen to Benny Hinn or Paula White or Mike Murdock and then listen to Pastor Enoch Adeboye.
If any reader believes he or she has met the Lord and does not have issues with many of the statements of the Redeemed Christian Church of God, and, in particular pastor Adeboye, the person should do thorough re-examinations of his beliefs.
Pastor Adeboye's companies and companions are another can of worms.   If a Jesus Christ-hating Kenneth Copeland and a God-denying Justin Welby, the Archbishop of Canterbury, are highly-revered men of God to Mr Adeboye, who, really, is his lord? Who does he serve? Are Muslim, Hindu and  Buddhist potentates servants of God, too?
Pastor Adeboye And The RCCG: Pay, And You'll Be Blessed!
Is it really true that his church members are encouraged to give money to the church so they might escape poverty and be blessed in the same currency they give the church? From which book, chapter and verse of the Bible is such teaching? And doesn't that call the teaching of the Bible that believers get whatever we get from God on the basis of the blood and death of the Lord Jesus Christ into question?
How do you square teachings such as these  with the following Bible passages?
"John 14:13  And whatsoever ye shall ask in my name, that will I do, that the Father may be glorified in the Son.
John 14:14  If ye shall ask any thing in my name, I will do it.
John 15:16  Ye have not chosen me, but I have chosen you, and ordained you, that ye should go and bring forth fruit, and that your fruit should remain: that whatsoever ye shall ask of the Father in my name, he may give it you.
John 16:23  And in that day ye shall ask me nothing. Verily, verily, I say unto you, Whatsoever ye shall ask the Father in my name, he will give it you.
John 16:24  Hitherto have ye asked nothing in my name: ask, and ye shall receive, that your joy may be full.
Payment Is Antidote To Poverty?
Perhaps it is better we hear from Christ Himself:
"The blind receive their sight, and the lame walk, the lepers are cleansed, and the deaf hear, the dead are raised up, and the poor have the gospel preached to them".  Mat 11:5
In God's own economy, the true gospel is the cure for poverty! It is not tithes or offerings or gifts given to pastor Adeboye or any so-called 'man of God'!
And as to where believers' wealth come from, we have:
"For ye know the grace of our Lord Jesus Christ, that, though he was rich, yet for your sakes he became poor, that ye through his poverty might be rich". 2 Cor 8:9
"But thou shalt remember the LORD thy God: for it is he that giveth thee power to get wealth, that he may establish his covenant.."  Deu 8:18
[sgmb id="1″]
And Christ's instruction: "But seek ye first the kingdom of God, and his righteousness; and all these things (food, clothing, housing, etc) shall be added unto you". Mat 6:33
The embedded video has not been produced with the best professional sophistication. The initial prominence the producers gave the supposed connection of the phone number of the North American Office of the Redeemed Christian Church of God to the Antichrist – which may, or may not, be true – is an issue. Readers must not be put off by this: there are many  more issues in the video we must all take into account as regards the ministry of Mr Adeboye.
We need to look more closely at both his companies and his teachings. If, to our revered pastor Adeboye, a preacher such as Kenneth Copeland, who says, "When I read in the Bible where it says, 'I AM', I just smile and say, 'I am!', too," is fine for the Redeemed Church of God, we need to examine what pastor Adeboye believes in. If a preacher who strenuously denies that Jesus is the only begotten Son of God is okay to Pastor Adeboye, we need to question his own beliefs.
If, as asserted by pastor Kenneth Copeland and Bishop David Oyedepo – two preachers pastor Adeboye recommends we listen to – all men, both Christians and unbelievers, can "speak things into existence" and create their own worlds by the words of their mouths, just like God, we need to find out Mr Adeboye's true beliefs.
If a man, such as Kenneth Copeland,  who boldly proclaimed that it was not the blood of the Lord Jesus Christ that paid for our sins and that he, too, was good enough to die for the sins of humanity was qualified to preach on Pastor Adeboye's pulpit, members of the Redeemed Christian Church of God, if they are Christians at all, need to find out from Pastor Adeboye what faith he really is into.
If a man, so godless as Kenneth Copeland, saying the sort of things Mr Copeland had been recorded saying against the God of heaven, things so damning this writer can never bring himself to repeating in any way, is a role model for Mr Adeboye, everyone who calls Redeemed  his church needs to find out from the G. O. what the meaning of Christianity is.
If anyone thinks he is a Christian and passes off these allegations without prayerfully opening his Bible and calling on the Lord Jesus Christ to help him see the truth, we are no longer guilty of his blood.
We have discharged our own duty.