What  The New Testament Says  About Speaking In Tongues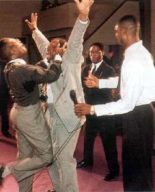 Readers are advised to go through this attached pdf file on speaking in tongues.  It is well researched and simple in layout and presentation. Most modern Christians are unaware that you do not need to be a Christian to speak in the tongues that are used in most of the churches they attend today. Because of gross spiritual ignorance, it does not occur to most of them that spiritualists and voodoo priests and adepts speak the same 'tongues' as their pastors and church leaders.
It is not obvious to most people that attend Pentecostal, Charismatic and even Evangelical churches that what they have as 'tongues' are not from the God of Heaven but from Satan. They are the 'tongues' that people possessed by demons speak in their times of high demonic activities. They are languages of familiar spirits.(Isaiah 8:19; 29:4)
Click HERE: A Biblical Study On Tongues
DANGER!
You must note the following:
The so-called 'tongues', when interpreted, were found to be curses rained on the Lord Jesus Christ, on God the Father and on the hearers in the audience of the 'tongue' speaker. That is what was proved by the research of Dr Kurt E Koch in the 1960s.
Did you get that?
It is NOT SAFE for you to stay anywhere anyone is uttering these satanic sentences.
Search for  Dr Kurt E Koch's Occult ABC and read pages 160 to 162 of the book.
The Holy Ghost has warned this is one of the lying signs and wonders of the end time. We hope and pray you will listen to Him.