Reinhard: In The Service Of A Strange God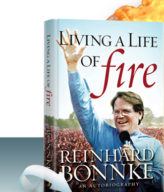 Not many people have done so much in spreading heretic Christianity and doctrines of devils in Africa as Reinhard Bonnke in the last forty or so years.
Most people have not sat up to compare his teachings with the clear writings in the Bible on God the Father, the Lord Jesus Christ and the Holy Spirit.
[sgmb id="4″]
Reinhard Bonnke is the poster child of the occult Word of Faith, Prosperity and Dominion heresies in Africa. He is a purveyor of a strange gospel; he  promotes another christ who operates at his beck and call.
Many Africans, in hell, will curse the day Bonnke was born.
Can Bonnke and the millions of pastors and church leaders that follow him be wrong? Daniel 3:7 says yes, 1 kings 22 says yes, Matthew 7 and 24 say yes, Jude says yes,  Revelation 12:9 says yes: the Bible says yes. Revelation 12 and 13 speak of a world-wide deception at the last days.
People would be so roundly deceived they would fight whoever draws their attention to the possibility they may be wrong!
Jesus in Matthew 24:24 spoke of a deception so thorough, even God's elects will barely escape being overwhelmed by it.
How can this be?
The deceiving preachers will come, and the sermons will be made, in the name of Jesus;
These will be accompanied with signs and wonders but these are NOT from God;
The teachings will deviate ever so slightly so people will not realize they are being misled;
Just like the temptation of Eve, the teachings will look very plausible and believable;
If they care to read their Bibles at all, people will think the little-by-little deviations from the Bible by the preachers are due to the preachers' idiosyncracy or special knowledge.
Shouldn't you check what Bonnke teaches with what the Bible says?
Visit:
The New Thought Metaphysics: The Occult Roots Of Word Of Faith
[sgmb id="4″]
How Can We Help Ourselves Against Errors So Insidious As Bonnke's?
By following what the Bible says: believe the truth about Christ written in the Bible (the KJV is the best, perhaps the only one, we have in English), read and believe the Bible is indeed true in all material sense in its pages, and, look for and join true Bible-believing groups, not occult, Word of faith, Dominionism, Charismatic or Pentecostal deception we have everywhere calling themselves churches.
Join a Bible-believing Study And Prayer group.
Bible-believing people need to check the Word of God much more closely amongst ourselves . The Devil is doing overtime on our generation, weaving errors, brewing heresies and raising powerful men and women to deceive as many as he can. Join a Study and Prayer group around you: the days are evil.
Send the following details to studygroup@thetruechristianfaith.com
Name:
City:
Street:
Country:
Phone Number:
Sex:
Email address:
We will advise you on the nearest Study and Prayer Group to your address.
Can You Get Involved With This Work?
If you are a Christian, you can:
Organize  family Bible Studies and watch the videos and sermons on this website with members of your household, using the materials here as topics to search the Bible together with members of your family;
Open up your house or garden for Study and Prayer meetings in your neighbourhood;
H

elp the spread of the truth in the media by your financial contributions
If you feel led of God in any of these, call us on +2347053251410 or send an e-mail to studygroup@thetruechristianfaith.com.