Jonathan Edwards On Revival And Counterfeit Christianity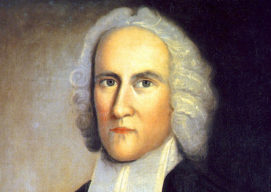 When you observe, as did this writer, the great evil caused by the admixture of  Word of Faith and Prosperity teachings  – some say,  supplanting –  with true Christianity in Nigeria between 1983 and now, you would wonder if the writings of Jonathan Edwards on the impacts of the intrusion of false beliefs into the 1730s revival in North East America was a prophecy or a writing of history.
Multitudes being so thoroughly deceived that they gleefully sin, thinking they are serving God while, in actual fact, their worship is abhorrent to His Majesty! Evil and vile men who have no fear of God presenting themselves as the best of saints and 'men of God'  before men and God!
You would think the book was written in 2017 Nigeria! These millions of people trooping to the Redeemed Camp every month end and the millions faithfully following Dunamis and Winners and Christ Embassy and Synagogue and the FCS and…and…!
These in spite of the prevailing aberrant ideas on who Jesus was, who the Holy Spirit is and what His works in the church are, their rejection of the reliability and infallibility of the Bible, extra-biblical 'revelations' and 'prophecies', the nature of sin and evil, what true salvation is…!
I advise you take a peek on this 1745 writings by Jonathan Edwards on what counterfeit Christianity does to the real thing.
"It is no new thing, that much false religion should prevail, at a time of great reviving of true religion, and that at such a time multitudes of hypocrites should spring up among true saints".
http://kotisatama.net/files/kotisatama/Tekstit_ja_kirjat/edwards.pdf
Excerpts:
It is by the mixture of counterfeit religion with true, not discerned and distinguished, that the devil has had his greatest advantage against the cause and kingdom of Christ, all along hitherto. It is by this means, principally, that he has prevailed against all revivings of religion, that ever have been since the first founding of the Christian church. By this, he hurt the cause of Christianity, in and after the apostolic age, much more than by all the persecutions of both Jews and Heathens. The apostles, in all their epistles, show themselves much more concerned at the former mischief, than the latter. By this, Satan prevailed against the reformation, began by Luther,  Zwingli, &c., to put a stop to its progress, and bring it into disgrace; ten times more, than by all those bloody, cruel, and before unheard of persecutions of the church of Rome. By this, principally, has he prevailed against revivals of religion, that have been in our nation since the reformation. By this he prevailed against New England, to quench the love and spoil the joy of her espousals, about a hundred years ago. And I think, I have had opportunity enough to see plainly that by this the devil has prevailed against the late great revival of religion in New England, so happy and promising in its beginning. Here, most evidently has been the main advantage Satan has had against us; by this he has foiled us. It is by this means, that the daughter of Zion in this land now lies on the ground, in such piteous circumstances as we now behold her; with her garments rent, her face disfigured, her nakedness exposed, her limbs broken, and weltering in the blood of her own wounds, and in no wise able to arise, and this, so quickly after her late great joys and hopes: Lam. 1:17, "Zion spreadeth forth her hands, and there is none to comfort her: the Lord hath commanded concerning Jacob, that his adversaries shall be roundabout him: Jerusalem is as a menstruous woman among them." I have seen the devil prevail the same way, against two great revivings of religion in this country. Satan goes on with mankind, as he began with them. He prevailed against our first parents, and cast them out of paradise, and suddenly brought all their happiness and glory to an end, by appearing to be a friend to their happy paradisiac state, and pretending to advance it to higher degrees. So the same cunning serpent, that beguiled Eve through his subtlety, by perverting us from the simplicity that is in Christ, hath suddenly prevailed to deprive us of that fair prospect, we had a little while ago, of a kind of paradisaic state of the church of God in New England.
After religion has revived in the church of God, and enemies appear, people that are engaged to defend its cause, are commonly most exposed, where they are sensible of danger. While they are wholly intent upon the opposition that appears openly before them, to make head against that, and do neglect carefully to look all around them, the devil comes behind them, and gives a fatal stab unseen; and has opportunity to give a more home stroke, and wound the deeper, because he strikes at his leisure, and according to his pleasure, being obstructed by no guard or resistance.
And so it is ever likely to be in the church, whenever religion revives remarkably, till we have learned well to distinguish between true and false religion, between saving affections and experiences, and those manifold fair shows, and glistering appearances, by which they are counterfeited; the consequences of which, when they are not distinguished, are often inexpressibly dreadful. By this means, the devil gratifies himself, by bringing it to pass, that that should be offered to God, by multitudes, under a notion of a pleasing acceptable service to him, that is indeed above all things abominable to him. By this means he deceives great multitudes about the state of their souls; making them think they are something, when they are nothing; and so eternally undoes them; and not only so, but establishes many in a strong confidence of their eminent holiness, who are in God's sight some of the vilest of hypocrites. By this means, he many ways damps and wounds religion in the hearts of the saints, obscures and deforms it by corrupt mixtures, causes their religious affections woefully to degenerate, and sometimes, for a considerable time, to be like the manna that bred worms and stank; and dreadfully ensnares and confounds the minds of others of the saints and brings them into great difficulties and temptation, and entangles them in a wilderness, out of which they can by no means extricate themselves. By this means, Satan mightily encourages the hearts of open enemies of religion, and strengthens their hands, and fills them with weapons, and makes strong their fortresses; when, at the same time, religion and the church of God lie exposed to them, as a city without walls. By this means, he brings it to pass, that men work wickedness under a notion of doing God service, and so sin without restraint, yea with earnest forwardness and zeal, any with all their might. By this means he brings in even the friends of religion, insensibly to themselves, to do the work of enemies, by destroying religion in a far more effectual manner than open enemies can do, under a notion of advancing it. By this means the devil scatters the flock of Christ, and sets them one against another, and that with great heat of spirit, under a nation of zeal for God; and religion, by degrees degenerates into vain jangling; and during the strife, Satan leads both parties far out of the right way, driving each to great extremes, one on the right hand, and the other on the left, according as he finds they are most inclined, or most easily moved and swayed, till the right path in the middle is almost wholly neglected. And in the midst of this confusion, the devil has great opportunity to advance his own interest, and make it strong in ways innumerable, and get the government of all into his own hands and work his own will. And by what is seen of the terrible consequences of this counterfeit religion, when not distinguished from true religion, God's people in general have their minds unhinged and unsettled in things of religion, and know not where to set their foot, or what to think or do; and many are brought into doubts, whether there be anything in religion; and heresy, and infidelity, and atheism greatly prevail.