Witchcraft In The Church
It is always important you know which of the above phenomena, worship or witchcraft,  you are involved in anytime you have anything to do in the church. It is always either of the two.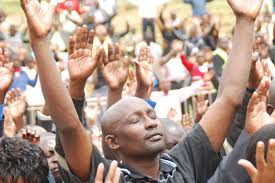 Let me make available the following rough definitions of these two words before we go far: in worship, the will of God is the issue; in witchcraft, it is your will. Witchcraft is the effort to invoke and control spiritual power, either from the True God or Satan, to affect things according to your will.
Since man cannot control the True God, all forms of witchcraft is, in fact, trafficking with demons, even when the man calls on the name 'Jesus' or 'Jesus Christ' or 'Jehovah' or any other name by which the True God is known. Anytime you hear any preacher, such as David Oyedepo or Paul Enenche or Biodun Fatoyinbo or Enoch Adeboye or Benny Hinn or Kenneth Copeland or Benson Idahosa or any other Pentecostal 'pastor' asks you to, "Command Your Destiny!", he or she  is asking you to get involved in witchcraft.  In true worship, God is in control; in witchcraft, you are.
The issue is who is in control. In diseased Nigerian Christianity, man, as distinct from God, is the one in control. This is what virtually all their pastors, prophets, bishops and apostles teach. "Thy Will be done", is anathema to them.
I am making these two very contrasting sermons available to readers of this site for education and warning. Please pay attention to the statements in each of them.
It is important you note Mr Oyakhilome teaching from Hebrews 11 the power of the human will to effect things according to his wish. This, he erroneously calls 'faith'. Listen to him teach that 'faith' is causing things to happen according to your will, not according to anything God said. His 'faith' has nothing to do with the mind of God.
Open your Bible and read Hebrews 11: the heroes of faith mentioned there were people who had:
".. trial of cruel mockings and scourgings, yea, moreover of bonds and imprisonment:
They were stoned, they were sawn asunder, were tempted, were slain with the sword: they wandered about in sheepskins and goatskins; being destitute, afflicted, tormented;
(Of whom the world was not worthy:) they wandered in deserts, and in mountains, and in dens and caves of the earth.
And these all, having obtained a good report through faith, received not the promise" Hebrews 11:36-39
They were people who  "…all died in faith, not having received the promises, but having seen them afar off, and were persuaded of them, and embraced them, and confessed that they were strangers and pilgrims on the earth." Hebrews 11:13
'Pastor' Chris Oyakhilome, like Benny Hinn and their other Pentecostal 'pastors', is into witchcraft and that is what he is teaching his gullible 'church' members here.
These are not Christians!
It is a mute point asking if they are capable of teaching Christians how to worship or please God.
May you allow the Spirit of the Lord guide you to discern the differences between the truths in God's words and evil formulated in Satanism wrapped in Bible quotations.
The Devil quoted the Bible to Jesus.