Counterfeit Miracles In The Church: Heresies Posing As The Move Of God
Nathan Busenits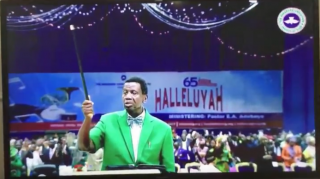 Because of the confusion and errors in the church, particularly on the issue of tongues, it is important all believers understand the basis of the modern tongues movement. I have been privileged to hear serious theological debates on tongues.
[sgmb id="1″]I dare say I have not heard many more detailed and authoritative than Nathan Busenits' discussion on this topic in, "Charismatic Counterfeits: Do the Modern Gifts Meet Biblical standard?". I advise everyone calls up this talk video on YouTube. There is nothing like knowing the truth.
The fact that the majority, or the powerful, approves a thing does not make it right before God. The prince of the air is still the devil. If you have accepted any tongue that you know is not in any way like what you have in Acts 2, i.e, a real, human, foreign, unlearned, language, you need to ask the Lord to deliver you from the error: the Aladuras of West Africa, the shamans of Asia, the Oceania and South America and the Hindus have the same 'tongue'.
What are the questions Nathan Busenits answered in the talk?
1 The origin of the real tongues in Acts and 1 Corinthians and its meaning;
2 The origin of the modern fake, pseudo-language, called 'tongue' in America in the early 1900;
3 The differences between the tongues of Acts 2 and 1 Corinthians 12-14 and the modern tongue outbreak;
4 Are there any differences between the tongues in Acts 2 and the one in 1 Corinthians 12-14 as the charismatics and the Pentecostals affirm?
6 The Purpose of the fake tongues in modern charismatic and Pentecostal circles;
7 The writings of earlier centuries' Christians on the real tongues;
8 The writings of some early charismatic and Pentecostal preachers on their 'tongue';
9 Are there really 'tongues of angels'?
10 Or, does the New Testament, or the Bible, have anything to say about 'spirit' or 'prayer' languages?
One mistake a reader can make reading the heading of this article is to assume counterfeit miracles are indeed no miracles at all. The Bible is not with anyone making such assumption: the miracles are counterfeit only on the source: who brought it about: the Devil or God. Miracles brought about by the magicians of Pharaoh were no less real than those produced by Moses.
The foregoing is necessary: most church goers today assume any miracle done in the church or anywhere the name of 'Jesus' is mentioned is from God. Nothing can be further from the truth, 2 Thessalonians 2:9. The Bible is not in support of such erroneous assumption.
If you think you need prayer or help in any way, feel free to get in touch with us.