ARE THESE YOUR IDEA OF MEN OF GOD?
We beamed our searchlight on the satanism in the Commonwealth of Zion Assembly, COZA, Abuja,  a few weeks ago by focusing on the teachings of one of their principal crowd pullers: Benny Hinn. Today we bring to you some of the teachings of another 'pastor' the 'church' calls upon to draw young people into their net: Creflo Dollar. If you believe these confirmed statements came from the mouth of a 'man of God', you need to check your dictionary for the kind of statements a man of Satan would make.
Since birds of the same feather flock together, you must then ask yourself the nature of the spirit in an organization that would call this kind of person for 'revival'.
Creflo Dollar, Non-Tithers And Machine Guns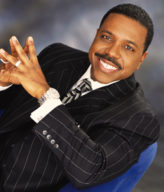 "But if they were not tithers, the bar would lock up. Red and blue lights would start going (up).  Cro…cro…cro…The siren would go up and a voice would go up, "Tie them"! Once we got them together, we line them up and pass up Uzzi (machine guns) to the ushers. We line up all those non-tithing members…and,  at the count of 3 jesus we shoot them all dead and we take them out (by) the side door there and have a big hole and bury them there and go and have church and have the anointing!" Creflo Dollar Continue reading COZA AND CREFLO DOLLAR: THE ADVENT OF SATANIC GODLINESS