Do You Really Care To Know The Truth?
http://www.bible.ca/tongues-kundalini-shakers-charismastics.htm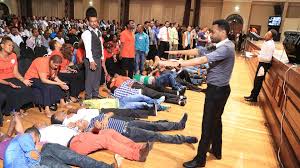 That is perhaps the most important question anyone will ever ask you in your life. Do you really care to know the truth? Do you know it is Hinduism that is being presented as Christianity in most of the churches today? You will deal with this question one way or the other. If you push off what you read in this post as mere opinions of a man, that is a response. If, on the other hand, you put utmost premium on the value of your life and you pay close attention to the facts we are making available to you through this post, with your Bible open, that, too, is a response.
In either case you will respond.
Pastors, Apostles, evangelists, bishops, prophets and prophetesses who preach Prosperity Doctrines, Dominionism, Tongues and Signs and Wonders and 'Fall-Down-and-Die' teachings are not Christian. Get that very clearly: they are not Christians.
Continue reading

Hinduism As Christianity